Designing a course is about alignment of the instructional methods, and assessment of learning, to the learning objectives of the course.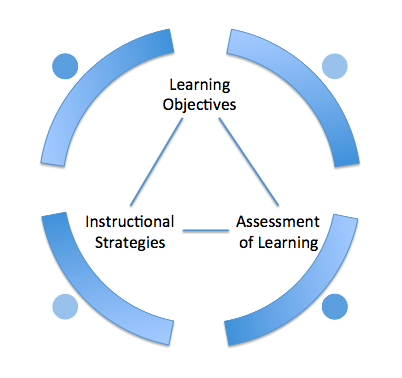 Alignment to the learning objectives is measured through data collected from various assessment activities (e.g. quizzes, project, presentation). If the assignment results show that the students have not met the requirements in the assessment, the instructor can
Redesign the course assessment activities according to the learning objectives of the course;
Refine the course learning objectives and communicate them to the students; and
Fine-tune their instructional strategies in accordance to the learning objectives in the course.
The feedback loop from the results in the students' assignments is important because it ensures there is an alignment in the overall design of the course.
Bibliography
Biggs, J.B. (2003). Teaching for quality learning at university. Buckingham: Open University Press/Society for Research into Higher Education. (Second edition)

Wiggins, G. P. & McTighe, J. (2006).

Understanding by Design

(Expanded 2nd ed.). NJ: Pearson.
Last updated on 24 Apr 2017 .