Learning through inquiry strives to nurture within students, deep learning and discipline-based way of thinking and doing. For example, in an inquiry-based approach to sociology, students should think and act like sociologists, practising the same disciplinary activities rather than just learning about the results of others. Inquiry-based learning (IBL), therefore, has the potential to increase intellectual engagement and foster deep understanding through the development of an active and 'research-based disposition' towards teaching and learning. The complex and interconnected nature of knowledge construction provides opportunities for both instructors and students to collaboratively develop and reflect on their learning.
Inquiry involves learners to:
tackle real-world questions, problems and issues by solving problems and creating solutions,
develop questioning, research and communication skills by collaborating within and beyond the classroom,
develop deep understanding of content knowledge by participating in the social creation and improvement of ideas and knowledge.
Inquiry-based learning (IBL) is an umbrella term covering a range of pedagogical approaches focusing on students' investigative process in addressing questions and solving problems.
Forms of Inquiry-based Learning
| Aspect | Problem-based Learning | Project-based Learning | Case-based teaching |
| --- | --- | --- | --- |
| What provides structure | Starts with a real world problem which is unstructured, open-ended, and this needs to be refined before it can be addressed. | Starts with clear specification of an end-product that is usually tangible. | Starts with (usually) real case narratives that are written to exemplify how concepts/ theories can be applied. |
| Typical process | Students are responsible for refining the problem, and also identifying what they need to know and how to bridge any knowledge-gaps. | In working to produce the desired product, students encounter 'mini-problems' which need to be solved. | Students usually discuss cases in groups. They analyze cases and answer questions already composed by the instructors. |
| Pedagogical emphasis & purpose | Emphasis is on the process of solving the problem; the main purpose is to acquire new knowledge. | Emphasis is on the product of the activity; the main purpose is to practice applying knowledge. | Emphasis is on the process of analysing cases; the main purpose is to acquire new knowledge. |
IBL should be viewed as a highly-structured (scaffolded) and thoughtfully designed-approach. Therefore, faculty needs to design learning tasks that are connected to the disciplines and to their students' lives (i.e. worthy of students time and attention, relevant, connected to the world and organized around the subject's central ideas). Learning objectives are focused toward clear and achievable learning targets. This approach requires that faculty see themselves as learners and researchers of both the subjects that they teach and their professional practice as a whole.
IBL Process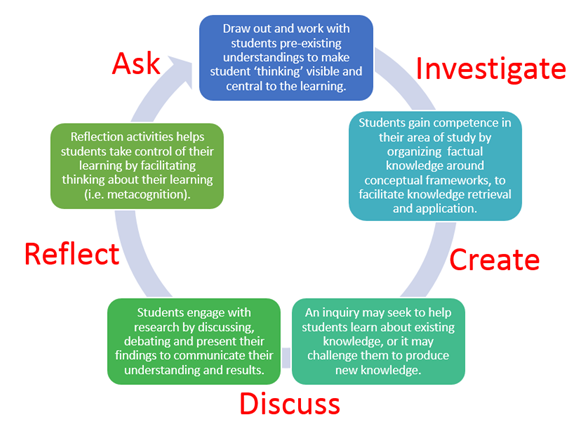 Resources
The
Galileo Educational Network
(from Calgary, Alberta) creates, promotes and disseminates innovative teaching and learning practices through research, professional learning and fostering external collaborations. Its website provides a rich resource of research, reference and professional development on teaching and learning from an inquiry stance. The
Galileo Inquiry Rubric
is designed with purpose of making inquiry more concrete and accessible, and is intended to be used by faculty in the design and evaluation of inquiry-based teaching.
Bibliography
Aditomo, A., Goodyear, P., Bliuc, A., & Ellis, R. A. (2011). Inquiry-based learning in higher education: Principal forms, educational objectives, and disciplinary variations. Studies in Higher Education, 1-20.
Atkinson, MP. & Hunt, MP. (2008). Inquiry-Guided Learning in Sociology. Teaching Sociology, 36: 1-7.
Friedman, D., Crews, T., Caicedo, J., Besley, J., Weinberg, J., & Freeman, M. (2010). An exploration into inquiry-based learning by a multidisciplinary group of higher education faculty. Higher Education, 59(6), 765-783.
Last updated on 02 May 2017 .