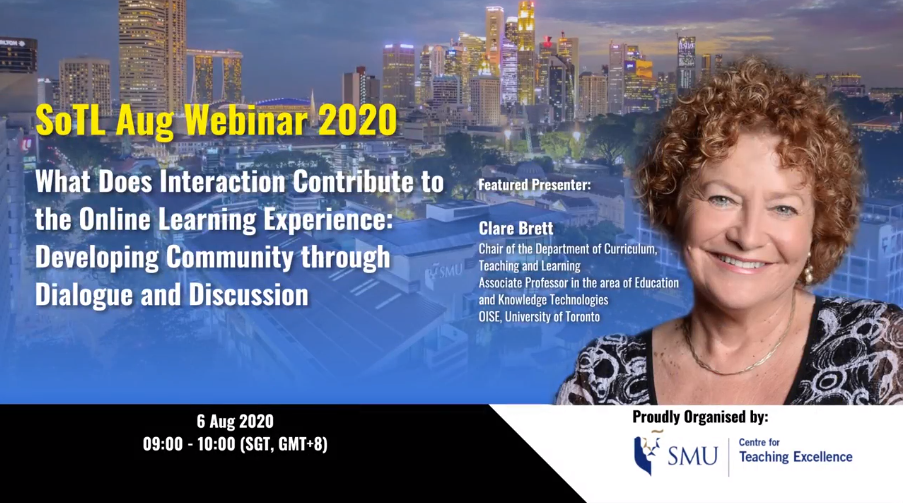 On 6 August 2020, the Centre for Teaching Excellence (CTE) organised a Scholarship of Teaching and Learning (SoTL) Webinar titled What Does Interaction Contribute to the Online Learning Experience: Developing Community through Dialogue and Discussion. The speaker at the webinar was Associate Professor Clare Brett, Chair of the Department of Curriculum, Teaching and Learning at OISE/UT and Associate Professor in the area of Education and Knowledge Technologies. She has been involved in research in the design of blended and online learning environments in classrooms for the last 20 + years, and her research interests are focused in investigating technical and social supports, as well as challenges, for collaborative online learning as well as issues of diversity and inclusion in online spaces. With her research group, Professor Brett has developed a website in providing individualized support to all faculty moving online: https://oiseonline.org.
During the webinar, which drew an attendance of close to 260 participants across 13 countries, Professor Clare reviewed some of the key understandings from decades of Learning Sciences research on learning and teaching in online settings to demonstrate how and why interaction in online courses can support deep learning. She presented on the challenges that she and her research team faced in creating online discussion activities, and shared several practical and implementable pedagogical and assessment strategies to overcome such challenges. Professor Clare also addressed queries from the attendees, sharing in particular her advice towards making online teaching engaging and how to go about building online communities for better learning.
To view the recording of the Webinar, please click on this link. 
To download a copy of the presentation slides, please click on this link.
CTE can provide resources and support you in defining your research question, considering the evidence to gather or analyse, and even ways to partner with colleagues or students.
Contact cte [at] smu.edu.sg (CTE) if you have an idea for a SoTL project. Thank you once again for your support of the SoTL Webinar and we look forward to seeing you at our future events!