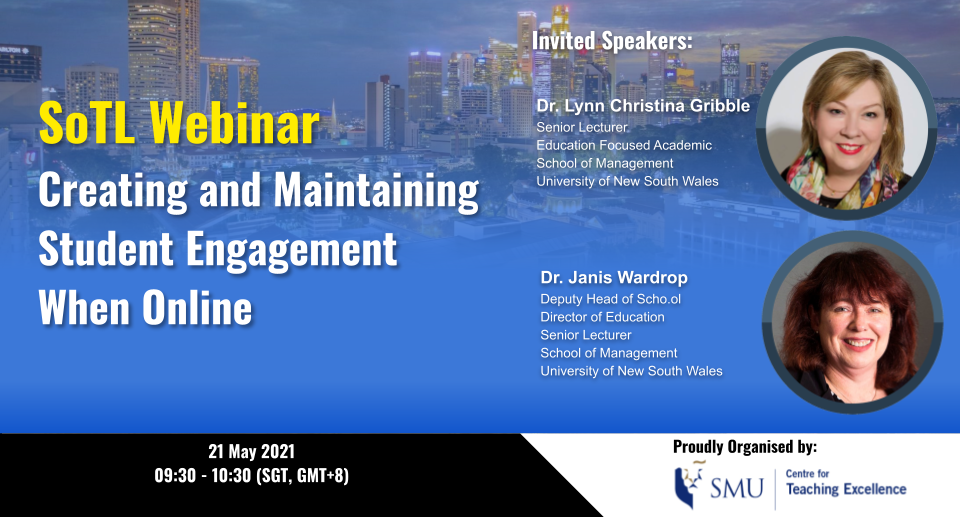 On 21 May 2021, the Centre for Teaching Excellence (CTE) organised a Scholarship of Teaching and Learning (SoTL) Webinar titled Creating and Maintaining Student Engagement When Online. The speakers at the webinar were Senior Lecturer Dr. Lynn Christina Gribble and Dr. Janis Wardrop from the University of New South Wales. Dr. Gribble has taught Management to large classes of Master of Business Administration and Master of Commerce students for ten years and has pioneered the use of voice recordings, audience response platforms and learning analytics to personalise every interaction with her students, increasing both their engagement and learning outcomes. Dr Janis Wardrop is an Academic leader, educational change agent and commentator on management education, business ethics and governance. With 15 years' experience in academia as both lecturer, program leader and manager her expertise lies in adopting a holistic approach to curriculum design. 
During the webinar, Dr. Lynn and Dr. Janis shared several practical and implementable pedagogical strategies to overcome challenges with engaging students during online classes. They recommended that instructors be deliberate in driving student engagement using relevant EdTech tools like polls, chat box and Socrative, and giving prompt responses to students so that students know their inputs are being acknowledged and valued. Dr. Lynn and Dr. Janis also addressed queries from the attendees, sharing in particular their advice on making students stay with the conversation by introducing tasks for students to do every 5-7 minutes, leaving them no time to 'multi-task'. 
To view the recording of the Webinar, please click on this link or view it directly by clicking on the video below.
Thank you once again for your support of the SoTL Webinar and we look forward to seeing you at our future events!