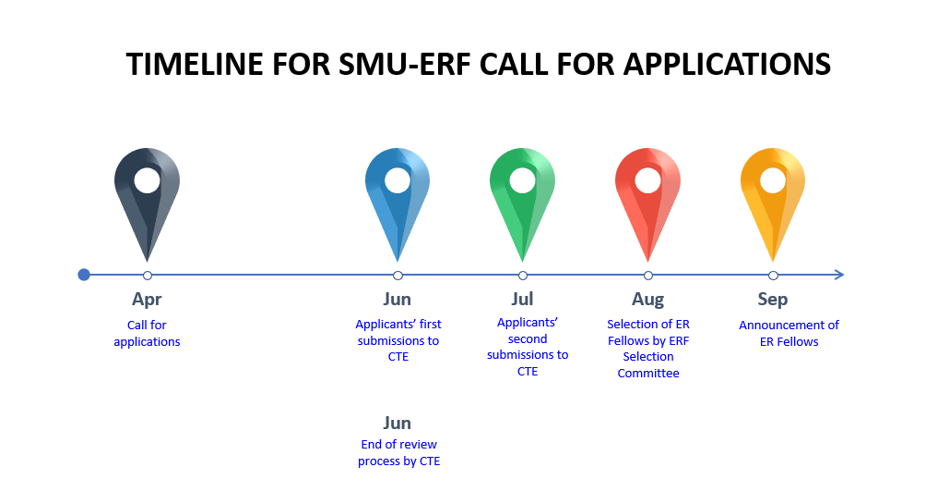 The SMU-Education Research Fellowship (SMU-ERF) was established to recognise faculty members who have demonstrated the ability or potential to attain accomplishment in educational research and to advance SMU's Scholarship of Teaching and Learning (SoTL). Up to two Fellowships with a period of two years will be awarded each year on a competitive basis.
The primary goal of the ERF is to encourage and support rigorous, systematic and evidence-based studies of teaching and learning, and to facilitate the dissemination of results of these studies in peer-reviewed journals or conference proceedings to benefit the wider academic community. The ERF seeks to advance SMU's practice of SoTL, and develop a network of education researchers who supports one another to improve teaching practices through scholarly inquiry.
The application process involves submitting a research proposal which will be reviewed by the Centre for Teaching Excellence (CTE), followed by an one-to-one consultation session with the applicant. The timeline above shows the application procedure. 
For more information on the SMU-ERF, please refer to the following:

SMU-ERF SELECTION COMMITTEE
The review of the applicants will be assumed by an esteemed committee:
Professor Venky Shankararaman (Chair)
Associate Professor Ivy Lau
Professor Gary Chan Kok Yew
Associate Professor Lieven Demeester (Facilitator)