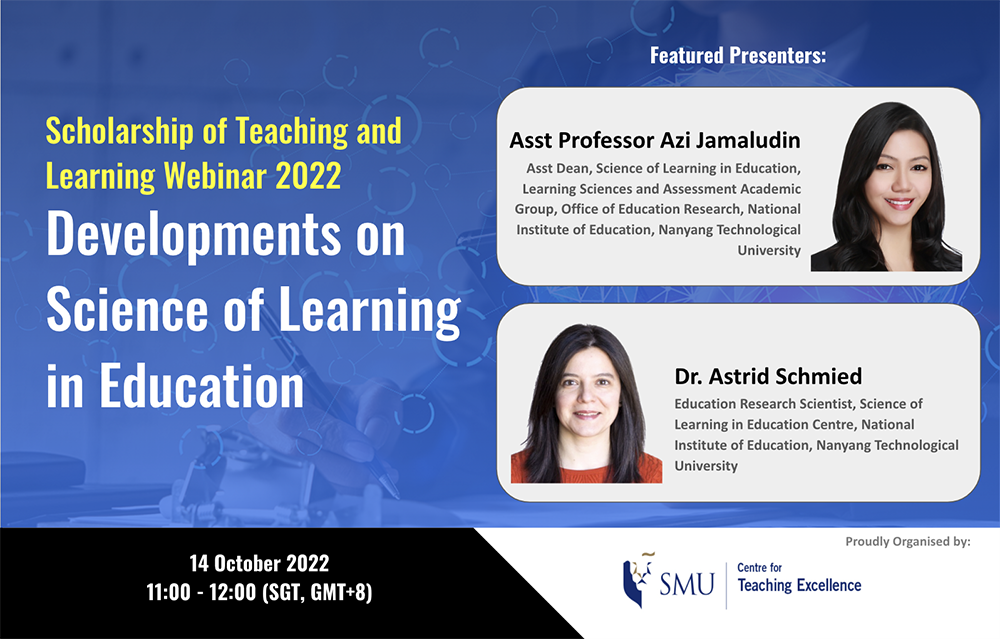 On 14 October 2022, the Centre for Teaching Excellence (CTE) hosted the fifth Scholarship of Teaching and Learning (SoTL) Webinar, which brought together 150 participants from across Asia to discuss the developments on Science of Learning in Education. The two speakers were from the Science of Learning in Education Centre, National Institute of Education (NIE), Nanyang Technological University. The first presentation was delivered by Dr. Azilawati Jamaludin, Assistant Dean of Science of Learning in Education. As a Learning Scientist, Dr. Azi has conducted research in the interdisciplinary areas of Science of Learning, Games and Learning, and Educational Innovations for Learning. In her talk, Dr Azi made a case for evidence-informed knowledge base for education and why cross-fertilisation across traditional fields of study, drawing on various methods to understand how learning occurs, has a role in SoTL. She also provided a clear picture of how the Science of Learning in Education Centre was developed at NIE which includes tri-strategic thrusts of research, teaching and community building orientations. 

The second speaker was Dr. Astrid Schmied, Education Research Scientist, whose research interests include the evolution of educational neuroscience as academic field and the teaching and learning process of neuropsychological content. She gave a very clear explanation of the relationship between educational neuroscience and Science of Learning, and shared her experiences in translating the research findings in schools and the challenges faced. Both presentations provided participants with important discussion points which led to a lively Q&A segment facilitated by Dr. Yeo Wee Loon, Assistant Director (Faculty Development) at the CTE.

To view the recording of the Webinar, please click on this link or view it directly by clicking on the video below.

To download a copy of the presentation slides, please click on this link.