INTRODUCTION
Singapore Management University has developed a Framework for The Use of Generative Artificial Intelligence (AI) Tools which aims to provide guidance on how the SMU community can use such tools, and where resources should be channeled to ensure the responsible and effective use of generative AI tools. It provides the University's position on the use of generative AI tools, as well as its use in the following specific contexts: [i] as a learning aid for students or [ii] as a pedagogical tool for instructors, and [iii] in assessments.
UNIVERSITY'S POSITION ON THE USE OF GENERATIVE AI TOOLS
The University recognises the benefits that generative AI tools bring and its increasing presence in our everyday lives. Our students will build their careers in a world where AI tools will be increasingly pervasive and it is incumbent on us to teach students how to interact with such tools in an effective and discerning way. With fast evolving technologies like AI, our response is not to shy away from it, but to assess how we can harness the best of what it can offer and adapt the way we teach and approach assessments to prevent misuse. We are committed to exploring ways to integrate generative AI tools into education, but at the same time safeguard academic integrity and standards of academic rigor. For this reason, ensuring the responsible and ethical use of generative AI tools must be part of our response.
THE FRAMEWORK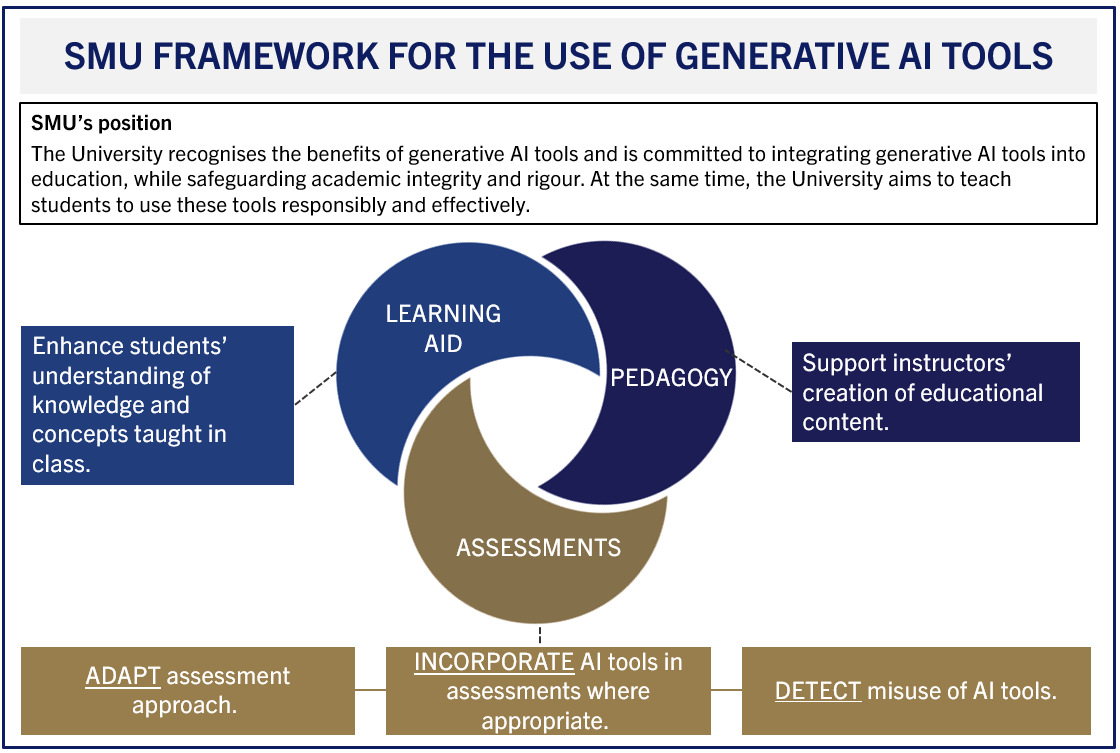 USE OF GENERATIVE AI TOOLS BY STUDENTS AS A LEARNING AID
Generative AI tools have the potential to enhance students' understanding of knowledge leading to better learning outcomes. Nonetheless, students need to be made aware of the limitations and ethical use of such tools.
The Student Success Centre will be developing a Guide to Learning with AI online module to educate students on how generative AI tools can be used as a learning aid in an effective and responsible manner. More details will be provided in due course.
USE OF GENERATIVE AI TOOLS BY INSTRUCTORS AS A PEDAGOGICAL TOOL
Generative AI tools can lead to improved teaching quality and support instructors to create educational content.
The Centre for Teaching Excellence (CTE) has developed a resource page on "Use of AI Tools in Assessment and Teaching" for instructors and will be updating it as new information on AI tools arises. In addition, a series of webinars/workshops has been planned to provide support to instructors on the effective use of generative AI tools in teaching, including demonstrating best practices for incorporating these tools in their teaching.
USE OF GENERATIVE AI TOOLS BY STUDENTS ON ASSESSMENTS
The University will address the potential misuse of generative AI tools in assessments using the following three-pronged approach of Adapt, Incorporate, and Detect:
ADAPT by changing assessment approach

Instructors can adapt by redesigning assessment questions such that they are beyond the existing capabilities of generative AI tools or changing the type of assessments employed.

INCORPORATE generative AI tools on assessments where appropriate.

Instructors may choose to allow the use of generative AI tools on assessments, where its use can enhance learning. If an instructor chooses to allow the use of a generative AI tool:

its permitted use must be made explicit to students;
guidelines for when and how it is to be used should be provided;
use of the tool should be credited using a widely accepted format, where applicable, such as the APA Style Guide or Chicago Manual of Style.

DETECT misuse of generative AI tools with detection tools, as they become available.

To deter the unauthorised use of generative AI tools, the University will be testing the performance of various detection tools and develop a guide for what an instructor should do if a student is suspected of having cheated by using an AI tool without permission.
UNAUTHORISED USE OF GENERATIVE AI TOOLS IN ASSESSMENT
The unauthorised use of generative AI tools will be considered cheating – a violation of the SMU Code of Academic Integrity and will be dealt with accordingly. Penalties will align with the University's established practices for cheating.