SMU Technology-enhanced Learning (TEL) Grant
At SMU, CTE supports TEL through funding support, pedagogical consultation, vendor management services, and evaluation of student learning.
The SMU TEL Grant is an annual competitive fund where project proposals are reviewed to ensure sound alignment to learning objectives and to steer projects with the potential for wider application across SMU.
Fund Categories
The TEL Grant will comprise of three types of funds to support different target applicants, namely the Subscription Fund, Exploration Fund, and the Incubation Fund:
Subscription Fund
The Subscription Fund aims to support faculty members who may wish to try out existing third-party applications and digital textbooks/platforms for their course. This would include subscription-based 3rd-party online applications (e.g. Classroom Responsive Systems, Interactive Video platforms, Virtual Collaboration tools) with the possible intent to integrate with Integrated Information Technology Services (IITS) to scale for campus-wide adoption. As part of the personalised adaptive learning strategy, CTE also works with faculty who are keen to trial the use of subscription-based textbooks/platforms with adaptive Learning features through the funding of students' accounts for a term. This is coupled with an experimental study to evaluate the impact of the adaptive digital tool on students' learning (see link).
 
Exploration Fund
The Exploration Fund aims to support faculty members who wish to experiment or innovate through the development of a unique TEL solution at the course-level. This would include pedagogical projects involving the use of more sophisticated levels of technology (e.g. Artificial Intelligence, Learning Analytics, and Virtual/Augmented/Mixed Reality), innovative solutions (e.g. games and simulations) and Blended Learning Objects.

Incubation Fund
The Incubation Fund aims to support faculty members linked to projects identified with the potential to scale campus-wide and beyond. This fund supports the translation of a prototype or proof of concept, through enhancements and further testing based on user requirements and feedback, to integration to existing IT systems (e.g. eLearn learning management system) as part of the EdTech Greenhouse model. Faculty with identified projects that show high potential to benefit the SMU community, through either the Exploration Fund, operationalisation of research projects or student application projects, would be invited to apply for this fund. Faculty, on their own initiative, are also encouraged to apply for these funds to fund their existing proof of concept for scaling. CTE may also initiate potential projects through working with interested faculty to drive initiatives that enhance Personalised, Collaborative and Interactive and Experiential Learning. 
If the EdTech project is unique and has the potential to create an impact on the international education scene, CTE together with Institute of Innovation and Entrepreneurship (IIE), will invite you to consider taking the next step of commercialising your technology by availing support, guidance and funding through the MOE Decentralised Gap Funding.
Alignment to TEL Framework
In order to ensure alignment to SMU's TEL Framework, all projects are required to enhance:
Personalised learning
These include, but are not limited to, the development of innovative, interactive and engaging digital content in the form of single-player games and simulations, self-paced digital tools that provide learners with choices in the learning process or have adaptive features to cater to the learning progression of students and virtual reality tools.
Collaborative and interactive learning
These include, but are not limited to, the development of immersive and engaging multi-player team-based games and simulations that enhance collaborative learning.
Experiential learning
These include, but are not limited to, the development of tools that facilitate learning through innovation and knowledge production, and/or participatory learning and action.
 
Grant Eligibility
CTE recommends that SMU full-­time faculty who are, at the point of application, on the Standing/Practice/Education track, and holding the position of Assistant Professor, Associate Professor, or Full Professor, be eligible to submit a grant application as the main faculty project lead. Adjunct faculty, who wish to apply for the grant, are required to seek prior approval from their respective School's Deans. Instructors and CEC Teaching Fellows and administrative staff (e.g. Library) who support full-­time faculty in teaching and learning are also eligible to submit grant applications as a collaborator, in partnership with a full­time faculty project lead.
 
Faculty may only submit an application if their previously approved projects are successfully completed by the stipulated deadline. This means that faculty with previously approved projects have to fulfill all requirements including the official acknowledgment of receipt of the final Report from their School, before submitting another application.
 
Grant Timeline
The announcement of funding support takes place in December/January each year. The timeline for the application and project development schedule is shown below. The duration of project funding is approximately one year, and a reasonable extension is possible.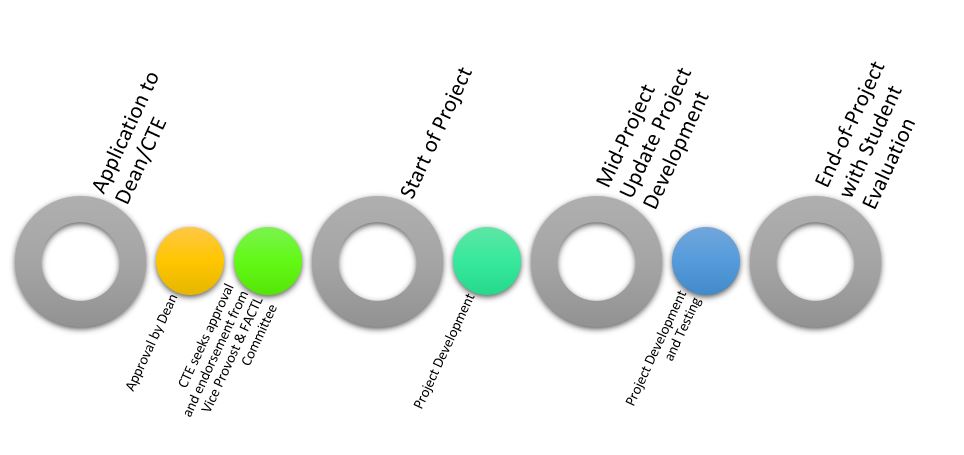 Review Criteria
Grant applicants will be evaluated and selected by the Selection Committee based on the following criteria:
Impact of the project:
Potential contribution of the proposal to improving student outcomes or teaching and learning practices; Potential for the scalability of the projects to SMU or a wider context.
Intellectual merits of the proposal:
Rigor of research methodology and learning design; Innovativeness and conceptual sophistication of technology integration; Clarity of purpose.
Evaluation Plan:
Sound approach in measuring the alignment of learning outcomes with the effectiveness of use of TEL tools, beyond student perception surveys.
Contribution to the professional community:
Plans to disseminate results of pedagogy research within and beyond SMU; Advance knowledge through collaboration with other IHLs; Highlight the significance of research to the applicant's field and professional development, as well as to the interests and needs of the curriculum, school or SMU.
 
Deliverables
Recipients will specify project milestones, in consultation with the CTE team, endorsed by the Selection Committee(s). Depending on the type of funds applied for, recipients will be required to present their progress updates and findings at varying degrees such as presenting their findings that contribute to the knowledge base of the field to the SMU/National/International community through publishing journal articles and/or presenting in conferences/ workshops/ interest groups. Faculty who are keen to publish their educational research findings in peer-reviewed articles or a research journal shall be given support by CTE.
Interested applicants are encouraged to view the application form at this link and contact either James Foo or Bernie Koh at cte [at] smu.edu.sg for a discussion on the TEL funding and application process prior to submitting the proposal form.